Weekend in Switzerland, Germany, and Luxemborg - July 13-16, 2002
July 13, 2002 - Geneva, Munich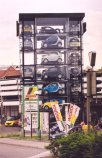 I arrived back in Geneva on July 12th and stayed at a hotel not far from the airport and train station. In the morning I checked out, left my large bag in storage, and headed by train to Munich. I had made a reservation in Geneva for the night of the 12th and the night of the 15th so that I knew where I would be staying and could leave my bag safely.
The train to Munich was reasonably uneventful. A lot of the train stations had books (in English) for sale and I picked up some John Grisham novels when I saw them. These were excellent for passing the hours on long train journey's across Europe. When I arrived in Munich I went to the hotel desk and got a hotel for the night and went off to find the Hard Rock cafe. As I was approaching it I came across the remains of a concert that was going on in the square. I picked up a Hard Rock t-shirt and had dinner before heading back to the hotel.
July 14, 2002 - Munich, Neuschwanstein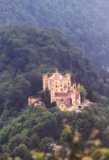 In the morning I went to the train station and caught the train to Neuschwanstein. I had done some research to figure out how to get there and left my larger bag at the train station. Once I arrived I bought tickets and walked to the top. There is also a carriage or tram that you can take, but I was, as often happens, in a walking mood. It was a pretty long walk and there were some peddlers on the way with food, drinks, and souveniers.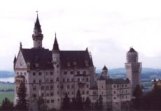 At the top is the castle itself, which I toured. Then you can walk around the grounds. Of particular note is the lovely foot bridge over the huge ravine. It affords a beautiful view of the castle, as well as the gapping chasm below you. Holding still while contemplating the possibility of falling to your death is always a joy. Fortunately, my camera takes pretty quick pictures, so I was alright. Or at least, the pictures came out alright.
When I was done sightseeing I headed back to the train station and caught the train back to Munich. I retrieved my bag and then headed to Luxemborg.It was getting rather late as I headed across Germany. I checked my rail map and timetable and got off at the appropriate stop for my tramsfer. However, I accidentally caught a train heading toward Berlin, rather than Luxemborg. While It would have been nice to see Berlin, I thought it might be nicer to actually make my flight back to the U.S. So I did some quick checking and found another train that would be heading in generally the right direction. So I got off at the next stop, crossed the tracks and caught a train heading back in the proper direction. Now it was getting really late, so I decided to get off in Mainz and find a hotel for the night and catch an early train toward Luxemborg in the morning. I walked across the street from the train station to a hotel and got a cheap room for the night, The bed smelled a bit musty and the room was quite small, but it had a bed and bathroom and I immediately went to sleep.
July 15, 2002 - Luxemborg, Geneva
I arrived triumphantly in Luxemborg, just in time for a little walking and a little lunch. I had managed to miss Luxemborg (and France) on my earlier trips to Europe, so I figured I would pop in and spend what time I could before heading back to Switzerland. I did a little shopping, at least window shopping, and mailed out more postcards. Eventually I caught a train back through north eastern France and back to Switzerland. I headed back to my hotel and collected my bag. I arranged for the shuttle to drop me off at the airport in the morning and went to bed.
In the morning I caught my flight back to the U.S. and my Summer Abroad came to a thrilling conclusion. All that was left was to pay the bills!
---
| Home | Rome Journal Home |
© 2009 John Eisinger. All rights reserved
Please report any problems to me.