Weekend in Naples - June 15-16, 2002
June 15, 2002 - Herculaneum, Pompeii, and Vesuvius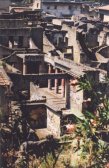 I took a train down to Naples on Friday, arriving in the evening. I did not have any hotel planned out. When I arrived at the station I went to the hotel window and told them what I wanted: single room with bath, prefer A/C, near the train station, not too expensive. I got a room for two nights for about € 40 a night. It was only a couple of blocks from the train station, and although the neighborhood was not ideal, it was fine for a couple of nights, and reasonably quiet.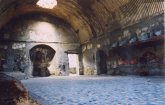 On Saturday I took the train to Herculaneum. You get off at the Ercolano stop and walk down the hill to the entrance. Of course, this being Italy, there are not a plethora of signs directing you, you simply have to know to go all the way down the hill. About three or four square blocks of the old city have been excavated. There were a variety of houses, businesses, and public buildings. The roads were paved with cobblestones and included sidewalks and intersections. It would not be difficult to mistake Herculaneum with a medieval city.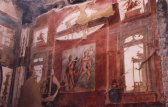 Inside some of the buildings were frescoes, others had bathtubs, urns, or other stone items. I walked around for about 30-60 minutes before heading back up to the train station. From the train station you can get a city bus up to Vesuvius. However, if you stand around when a train arrives, locals will approach you with their vans and take groups up to the top for roughly the same price as the bus, and will wait for you and bring you back.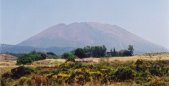 The driver stopped on the way up to let me take a few pictures. It was a clear day, except that the mountain tended to have a little cloud right above it. The driver told us that Vesuvius has had major eruptions at reasonably regular intervals and that it was about 20-30 years overdue. Then he noted that Naples had no real emergency plan in place. That was very reassuring!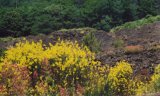 All around the mountain there are a ton of wildflowers. The volcanic soil is rich in nutrients, and you could see the path of the most recent lava flows, from World War II. We got to the parking lot and started to climb the winding trail up to the peak. There are people who rent poles to help you climb, but I decided against getting them. It was a reasonably strenuous climb, but not too bad. At the top you had to pay an entrance fee to actually go up to the crater.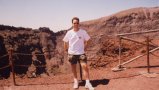 I got up to the top and walked around the crater. There are excellent views of Naples, and you can see where Pompeii is located, although it was difficult to see much at that distance. After being told that the volcano was overdue for an eruption, I found it disconcerting to hear the sound of rocks falling, and feel the Earth rumble beneath me. I was reasonably happy to head back to the bus and get off the mountain!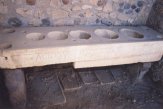 After we got back to the station I caught the train to Pompeii. I arrived about 45 minutes to an hour before the place closed. This was not really much time to see Pompeii, which is significantly larger than Herculaneum. So I rushed through, trying to hit the highlights. There was some really cool stuff, including the measuring table (see left), breweries (see right), and mosaics.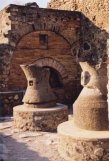 It was a little bit creepy being there. It is one thing to be in a ruined city, but it is another thing entirely to be in a place that was thriving and then, in the course of an hour or two, all life was simply extinguished. People didn't abandon the place, they all died in a short period of time. Like Herculaneum, the place looked like a medieval city. Wide streets with sidewalks and drainage; houses and businesses set out in a grid; different shops with the same look--urns imbedded in the counter, which is made up of different colored stones. Some of the buildings were two or three stories tall, and there were baths, fountains, and sky lights.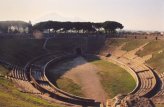 I walked to the far side of the city and checked out the arena (see left). Again, it looked similar to a modern stadium, with stairs coming up along the edge and tiered seats. I had to hoof it back to the entrance, as the place was closing. I wish I had been able to spend more time at Pompeii, but such was not the case. Giving a tip to the guards allows access to some of the "closed" portions of the city, including access to some famous features. A lot of the mosaics have been removed and placed in the Naples museum to protect them.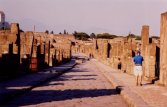 I took the train back to Naples and wandered about until I found a pizza restaurant that looked good. I got a table outside and ordered a pizza margherita--plain pizza. It was pretty good, and a decent size for one person. They are a little light on cheese and heavy on sauce, but still good. They also place a black olive in the center. Not sure why. After dinner I headed back to the hotel and got a good night's sleep. It had been a pretty busy day. I probably should have split the two sites up into different days, but my time in Naples was a bit limited. My roommates ended up being in Naples the same weekend and they headed over to Capri, at least for a day or so.
June 16, 2002 - Naples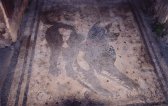 I went downtown and walked over to the museum. A lot of stuff from Pompeii and Herculaneum ended up here, as well as other Greek and Roman art. They wouldn't let me bring my camera bag inside, but I did not realize that I could have brought my camera. So no pictures of the stuff in the museum. Ah well. I wandered about the museum for about an hour and then walked around through town for a while. I headed back and checked out of the hotel and caught a train back to Rome.
---
| Home | Rome Journal Home |
© 2004 John Eisinger. All rights reserved
Please report any problems to me.