Xi'an, Terracotta Warriors, Acrobats - Wednesday, July 11, 2001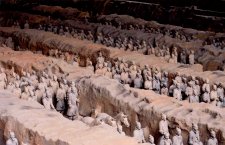 We got up early and checked out of the hotel. We had a great breakfast, buffet-style, that included french toast and bacon (American bacon). We headed off to the terracotta warrios, about an hour east of town. We arrived at 9:00 a.m., half an hour after the place opens. It gets very crowded. We headed straight to the pits of warriors, over the objections of our Chinese guide who wanted us to see the movie first so that we could properly appreciate the warriors when we saw them. The problem with that plan is that by the time you get to the warriors you can barely see them because it is so crowded.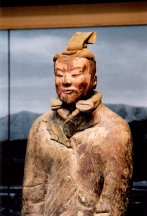 The warriors are really cool. They mass produced the feet and legs (which are solid), and the torsos and arms (which are hollow). There are several varieties of each, so all of the soldiers don't look the same. In addition, there are numerous different types of soldiers, archers, pikemen, officers, etc. The hands were different depending what type of weapon the warrior was holding. Finally, each head is different. It is thought that many were likenesses of the people who carved them.
The warriors were found a couple of kilometers east of the Emperor's tomb, which looks like a low hill and has not been excavated. There are three sets of pits that have been found so far, but only a small portion has been excavated. The warriors are colorfully painted, but the paint fades within minutes of being exposed to the air and light. The excavators have not figured out how to prevent this yet.
The warriors are in trenches that used to be covered with a roof of some kind. All of this was then covered with dirt. The figures are foot soldiers, archers (some standing and some kneeling), cavalry, and charioteers. There are also some officers, generals, and horses and chariots. Originally, they held wooden weapons, but those were mostly destroyed over time. Many of the figures had to be put back together or repaired.
After going through the three pits we went to see the movie, which was in a 360° theater. Much of the movie was on all sides, but some portions of the film took up only a third of the screen and were shown on several sides. Occasionally, each screen would have a different picture or scene.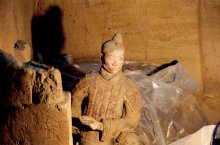 The movie was interesting and gave some history about finding the warriors. The movie also provided information about the Emperor who brought together the seven kingdoms into what is modern-day China and had the terracotta warriors created to protect his tomb. There was also a section on how the Emperor's successor attempted to destroy the warriors and sack the tomb. Finally, there were a couple of pieces about how the warriors were created and how the excavators have preserved and restored the warriors.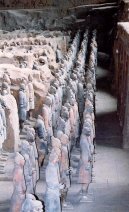 According to Ian, they run the film in whatever language (English or Chinese) that they feel like for each performance. In theory, this is based on the composition of the audience. At least that is the theory. Ours was in English, although you couldn't really hear the sound, so it isn't as if it really mattered which language was playing. Some German tourists taped the whole movie on a digital camcorder. Odd.
Next, we headed over to the museum to see some more artifacts and some prime examples of terracotta warriors. Another little tid bit. In addition to the warriors, the Emperor was buried with all of the artifacts, and people, surrounding him when he was alive. Ian suspects that this was not mentioned in the contract -- by the way, when you are finished building the tomb, you'll be buried in it. You gotta watch out for that fine print! As in Egypt, they started work on an Emperor's tomb as soon as he took power. Many emperors attempted to prolong their lives through elixers and other means.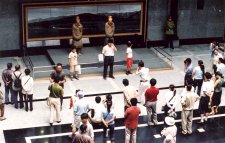 We left the terracotta warriors and headed off for some lunch, and shopping. The vendors are kept out of the area with the warriors, and are prohibited from going up to the tourists as they walk to and from the site. Unless you approach them, they are supposed to leave you alone.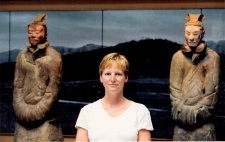 Anne and Sally were both interested in terracotta warriors, and I was interested in getting some ice cream. We all achieved our desires. I also checked out some masks at one shop, but I didn't really see anything I liked. So, we headed over to the restaurant but Ian had a disagreement over the pricing, so we went to the place next door. We ordered noodles with beef for everyone else, and meat-filled dumplings for me. the noodles came out and they informed me that they were sold out of dumplings. Since I had been unable to even procure any water, I headed out to do some more shopping instead.
I went to a store next to the one in which I had seen the masks and saw a couple of masks that I liked. They started at ¥150 ($18.50), discounted just for me to ¥120 ($15.00). I asked if they had any others, but the others were all bigger. We were now at ¥80. When asked for a price I suggested ¥15. I stuck with my price as theirs dropped to ¥60, ¥50, ¥40, and eventually ¥20. I maintained my ¥15, but they did not seem inclined to drop further, so I walked back to the restaurant. They made no further entreaties as I left. The others thought I should go with the ¥20 price ($2.50). So, I went back and tried two for ¥35, but we ended up at two for ¥40.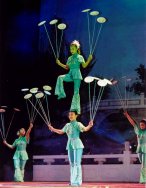 We picked up some water on the way to the bus and then headed out to the airport. As with all travel in China, the bus to the airport took about an hour and the flight to Shanghai took about an hour. the landing in Shanghai was relatively smooth, a rarity in China.
We arrived in Shanghai and found our local guide and took a minibus directly to the restaurant. The restaurant was nice except that the chopsticks were think and pastic. This made it difficult to pick up slippery food. We had some thousand-year eggs, which are buried in the ground instead of being cooked. The whites turn a smoky brown, which is surprisingly unappealing.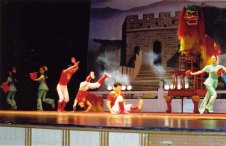 They serves us rice early in the meal, a sure sign that they cater to foreigners. Most Westerners eat rice with their meal. In China it is considered polite to bring the best dishes first so that your guests fill up on good food instead of rice and other inexpensive dishes. It is polite, as the diner, to leave some food to show that your host fed you enough.
After dinner we headed over to see the acrobats. It was not very crowded in the auditorium, so Ian and I snuck up front to take pictures. The acrobats were really good, and they did tricks with bicycles, balancing chairs, juggling, jumping through hoops, contortionists, and ended with a guy on a motorcycle riding around inside a large metal ball. He was joined by another guy on a motorcycle, and then a third and finally a fourth. All four zoomed around inside the ball, then one would beep his horn and they would all change speed and direction and do loops in a different direction. It was incredible.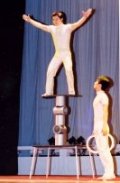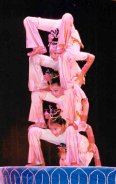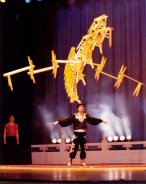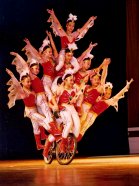 After the show we headed to our hotel, which was really nice. We were on the 24th floor, and had a nice view of the city. Interestingly enough, you could open the windows up enough to get out.
---
| Home | China Journal |
© 2001 John Eisinger. All rights reserved
Please report any problems to me.